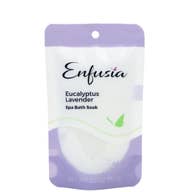 Eucalyptus Lavender Bath Soak
Eucalyptus lavender bath soak is a perfect combination of eucalyptus essential oil and lavender essential oil to help you clear your respiratory passages while lavender helps to calm and soothe. A perfect combination.  This eucalyptus lavender bath soak is great for self care! Taking a bath with epsom salt also helps provide a feeling of relief to achy muscles.
Net wt. 2.5 oz (70 g).
Ingredients: usp epsom salt (magnesium sulfate), fragrance (phthalate free), essential oils of lavender, eucalyptus, and patchouli.

Made in United States of America
The Eucalyptus Lavender Bath Soak is evocative, to say the least, but that's why you're drawn to it in the first place.

Inventory Last Updated: Dec 07, 2023