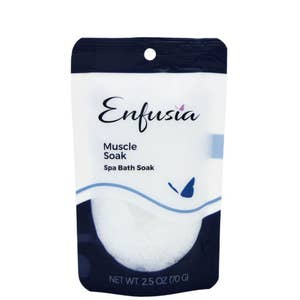 Muscle Bath Soak
Muscle bath soak has eucalyptus, mint, rosemary, and tea tree essential oils to soothe and refresh the body & mind. This muscle bath soak contains epsom salt which is know to help with sore and achy muscles.
Net wt. 2.5 oz (70 g).
Ingredients: usp epsom salt (magnesium sulfate), essential oils of eucalyptus, peppermint, spearmint, and rosemary and tea tree.
Made in United States of America
The Muscle Bath Soak is a sensational customer favorite, and we hope you like it just as much.

Inventory Last Updated: Dec 07, 2023